Contemporary romance is my kind of charge. Sarah Dessen was my gateway drug a few years back and now my need for good stuff grows strong. I've moved into some more heavy stuff - Jennifer Echols, for instance - but my core needs stay the same....good writing.
But you see....I don't feel like I am seeing much of that of late. Or I did feel that before I read Anna and the French Kiss (debut author Stephanie Perkins) and fell over with just how good it was. I've become very used to inferior product and that gets me down, very down, rock bottom down.
What is getting me down, down, down? -


Characters - Talking about how in love you are doesn't excuse the fact that we don't know WHY you are in love. One of the basic rules of writing is SHOW don't TELL. And why is it when the writing is poor there seems to be more love declarations and less character development? Coincidence? I think not.
Also, being gorgeous doesn't mean he's the love of your life/has a sparkling personality. Saying "I love you" all the time doesn't make him automatically interesting. If looks and love declarations were the end all and be all, I would find soapie actors much more desirable.
Love shouldn't always be revealed by a dangerous event. You can just love someone by learning about them, talking with them. You don't need to be bitten by a rabid dog or threatened by the convenient psycho girl at school to realise you have feelings for the guy (or girl). If you love them because they saved you...make sure they have a personality. ** Remember...hot doesn't equate to the ability to hold a conversation or you know, be interesting.
Love is with your heart, not your loins. The two can coincide but not always. The dude (or dudette) might get your motor running but that doesn't equal a love connection, alternatively being in love doesn't mean you can't spin each other's wheels. Love doesn't equal purity, you can wear the white dress no matter what. And why is the need for the white dress an issue anyway....you're still in high school!
Why do poorly constructed love triangles destroy their protagonist in order to have two hot side orders? Seriously, you can't decide? Really? (Oh wait, you're a character in a series...of course you can't decide, we have many more titles of dithering to suffer through.)
The last point really bugs me, specifically in poorly written titles, so I am going to go into more detail so my twitter rants will lessen (sorry followers). The simple truth of the matter is that most of the time I lose respect for the protagonist who ping pongs between suitors. Not because I am jealous and wish I were in that position, exactly the opposite. My big frustration is that often the author explains the lack of a choice away with indecision.
How can you be undecided? Ultimately these girls (or guys) aren't and in the well written triangles even when there are tough decisions to be made, they already know the answer (eg Rose/Dmitri/Adrian or Katniss/Peeta/Gale). I always seem to be on the losing side as I often prefer the 'doucheboat' (douchebag + dreamboat) over the likely choice. Now in most cases I can give the protag the benefit of the doubt. Lust versus like. Old friend versus new enigma. Mythical being versus paranormal being. Whatever your triangle of choice. I just don't buy the characters who are so deluded they don't know who they are leaning towards at least. Teen girls can be oblivious but they also analyse things to death, specifically their love lives. Obliviousness to their own feelings and others doesn't play.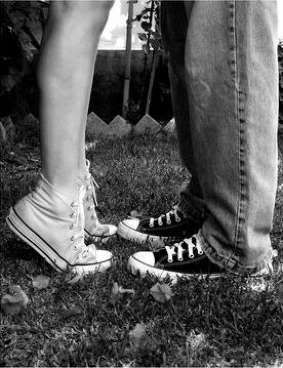 But I take issue when the protagonist is so bland that the readers can easily place themselves into the storyline and/or the author wants to make the triangle hot even if it makes their main character horrid. I recently read a fantastic book that had me ... with the exception to the love triangle. The girl was undecided between love and duty...which I can understand but was alternating very hot scenes between both of them. Not once but on multiple occasions. Now I am not being harsh on my gender, I think a dude doing this is all kinds of ick too. My problem was - she has feelings for both. Fine. Does that mean it is okay to be kissing, petting and other stuff with both? No. Am I being a prude? No. I have no problems with teens in YA being intimate but I do have a problem with a protagonist treating each boy so callously when they both have feelings for her. It reflects poorly on her character, on her being, on her integrity and this wasn't a protagonist that I liked, empathised or even engaged with in the end. I wrote her off as it was callous, not matter how oblvious the author tried to make her in the attempt to make her look innocent in her dealings with the boys. It destroyed my enjoyment of the book and the otherwise great writing.
I object to a love triangle being the central conflict in a story. Especially when the characters are all vanilla. In settings where love declarations abound and ponies prance in forests of sugar plum fairies. The protagonist always knows who she likes more. I just wish there were more stories about the protagonist choosing and the other person sticking around. Too often they are shuffled off so as not to be in the couple's periphery. I loathe when that happens. It isn't realistic. The girl (or guy) should choose and live with the consequences - good, hot and bad.
What I loathe even more? When the protagonist doesn't have to choose because the author creates some plot twist that renders the protagonist passive. Why create that conflict to begin with then?
You know the passive solutions I am talking about - when the third wheel:
dies
moves away
(and the worst)has a new significant other immediately who they instantly fall in love with which a) makes them look flighty and b) that their interest in the protagonist wasn't real to begin with making the protagonist's (not)choice the right one. *shivers*
What do you think? What is your YA romance deal breaker?
**I've mentioned The Hunger Games here but I would love it if you don't comment on Mockingjay. I have not yet read it and would prefer not to be spoiled as I have so far managed to avoid it other than hearing who Katniss picked - nothing else. Thanks xx A