As a comic reader and pop culture maven it made sense that I would start watching
Arrow
when it debuted in October of 2012. I had viewed all ten seasons of
Smallville
with the fervent hope that Chloe would one day step to the fore. She didn't, unfortunately, but she did snag herself Green Arrow and then slowly (but not surely) extricated herself from the mess that that show became.
But
Arrow
isn't
Smallville
. Thank god.
And Justin Hartley isn't playing Oliver Queen. Stephen Amell is. Both actors have done a fantastic job in making their variations of the character spring to life.
But when
Arrow
aired. I wasn't sure. It was shot beautifully, the actors were good but something was missing. It wasn't until the third episode that I, and pretty much every other person watching the show, realised that the thing that was missing was a moment of levity. The second that Oliver Queen almost smiled was the moment the show started to breathe.
Arrow
started off as a relentlessly grim exploration of a man seeking retribution for his father as the expense of everything, even himself. The show took Oliver's lead, becoming a cold, dark and terse spiral into bloody sacrifice. And it was done well. But to appreciate the dark, you need a breath, time to sit back on your heels. The breath came in the form of a blonde, ponytailed rambler with a talent for computers.
Felicity Smoak.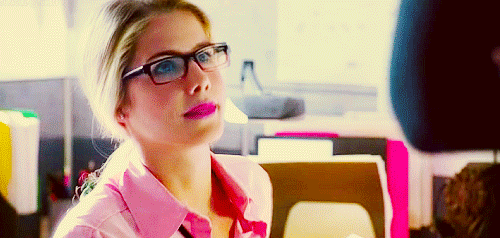 the nearly smile.
But let's be honest, it wasn't Felicity Smoak we responded to. It was Emily Bett Rickards playing Felicity Smoak that made Oliver (and Stephen Amell) nearly smile. We needed her desperately and the show craftily reconfigured, locked her down and steadily increased her screen time until she was a season regular in season two. For any other actress this might have been a two scene guest role that didn't make an impact, but Rickards did. Credit to her for doing so because she's a large component of the upswing of engagement, and momentum from that, that increased the show's ratings. We liked everyone more for being in a scene with her and Oliver kept almost smiling.
The Rickards tale has been often told, none better than by Amell.
Almost immediately the Olicity (Oliver + Felicity for shipping novices) took off and running. Almost immediately after that people began to dismiss the Felicity character as one half of a sad ship-crazed fandom. Yes, they liked the character but they didn't really see her with Oliver in a relationship way...more of a partner or sibling way. Regardless, the barrage of Olicity became loud and prevalent.
But the problem with Felicity Smoak...is that the Olicity factor is much more about her than it is a couple. Our whole experience of the character was primarily through interactions with Oliver. Every time Rickards was on screen she was in a scene with Amell.* Sometimes Diggle (the lovely David Ramsey) was loitering around with a line. Sometimes she shared a scene with Walter...but that was really to slingshot her into the Foundry. Sometimes...wait, that's pretty much it until mid-season two. Her sole purpose on the show is to be Oliver's Girl Wednesday. Her only storyline was Oliver. Felicity is a supremely likable character (something the producers haven't been able to replicate other characters, specifically the divisive Laurel and Roy) and her key interaction is with the lead...who's a dude...who the character, and the actress, have great reciprocal chemistry with. Viewers want more of the supporting character of Felicity and the most obvious avenue for that was for her to be in a relationship with him.
*This happens for Diggle as well. Laurel and Tommy have each other to play off, as do Moira and Thea.
Of course there are other ways for there to be more Felicity screen time. She could train with Diggle. She could befriend Laurel (who desperately needs to be in a scene with someone she's not related to, or has boinked.) Sara and Felicity could become friends, train together and build off their nice scene together earlier in the season. She could enter in a relationship with Barry Allen, aka The Flash. Felicity could move her way towards becoming Oracle. Until the most recent episode, we knew almost nothing about the character. The most prevalent information we had was that she lusted after Oliver, lacked a filter, wore short skirts, was loyal and lovable, a genius at IT, and has a tendency to get kidnapped by the bad guy (though not on Laurel-like levels.) If you distill the previous sentence into the most often evidences character traits were the lust and the tech. That's it. Both serviced the main character.
There were options available. And the fans were excited for any of them. But then the kiss happened, and anger that erupted from that one scene that concluded the most recent episode. I maintain that that rage was much more to do with Felicity than the Olicity situation. Felicity was going to feel betrayed, and/or marginalised, and that meant our sunshine was going to fade. Fade as a result of her unselfish choice to be honest (and the repercussion of that honesty for Oliver). We like to believe that such self-sacrifice has a positive pay off...but instead of a scene post-revelation, we had a kissing scene that makes another female a larger component of Team Arrow.
Which means that Felicity will probably get less screen time as long as Sara's in the picture. (Yes, I realise tomorrow's 2x14 is Felicity-centric....but lets see how 'centric' it really is.) What could have been, and could still be, a relationship between two women fighting as part of a team looks less likely. Sara's presence also removes the claim that Felicity knows the true Oliver better than anyone. Sara knew the old Ollie, the shipwrecked ragamuffin, and the Arrow, not only does she know him better than anyone but she's shared many of those experiences. Sara, in effect, has minimalised Diggle and Felicity. It's the one-two punch of ouch.**
**Everyone love Diggle. Diggle needs more screentime.
The Sara/Oliver hook up also has greater impact as the viewers did (yes, past tense) really like Sara. And yet, in betraying her sister (again) and hooking up with Oliver she has fallen in many viewer's eyes. Though not to Laurel depths - depending on who you talk to. Many Felicity fans had envisioned Sara as a friend to Felicity, a means of developing both of these characters outside of their relationship with Oliver, and yet in one fell swoop this opportunity seems to have disappeared. Not only that but it had dire consequences for Laurel and the potential for a relationship with someone who wasn't her dad, Oliver or (RIP) Tommy. It's an Arrow cataclysm of female character dominos. Yes, all these hopes can be eventuated still. But we're about to hit episode 37 and not one of the secondary female characters (sans Queen ladies) have passed the Bechdel Test in a scene together. To have all this potential female friendship material get pushed out (if ever) because a female character boinked the lead is heartbreaking.
It's not about Olicity so much as our love for Felicity and our need to have her be more, do more and have more screen time. Regardless of Oliver, we want more Felicity. We would love for her to have more scenes with Moira because look what happened when you let them unleash! Why don't Thea and Felicity have a relationship? Why isn't Laurel brought into the social group, as opposed to the Team? Why do we know more about Roy than Felicity? (I am seguing, sorry, but really the females get a rough go in this show sometimes.)
Yes, we would like to see some pay off for the crackling sexual tension between Felicity and Oliver but really, viewers want Felicity to get what she wants. And if that means Oliver - awesome. If that means Barry - awesome. If that means leaving the Team, rerouting her career path back to IT (don't get me started on the EA position) and starting her own girl team - more awesome.
Felicity Smoak isn't just one half of a potential couple - she's a whole person. We want Felicity to be her own self. Outside of Oliver. And hopefully in a sweaty and hot predicament with Oliver too.
That's not too much to ask, right?