I am a voracious media consumer. Anyone who knows me, in real life or online, would not be shocked by this revelation.
While I enjoy music, I will choose a podcast over an album any day of the week. There's something about listening to a conversation between two (or more) engaged people that really plugs into my brain, specifically when it traces an artist's process or journey. I am fascinated by the creative process regardless of the medium and would much rather hear about it than the final product. This preference may be peculiar but I have been exposed to things I would not have come across in another sphere. Curiosity didn't kill the cat, it feeds the brain.

Podcast Recommendations:
Stuff You Missed in History Class
A new podcast in my rotation, SYMIHC plugs directly into my inner history nerd. Each episode digs deep into the facts of different historical figures or events that illuminate and educate. It may sound a little dry but the things I have learnt about Frida Kahlo, the Bronte siblings childhood, Laura Ingalls Wilder and the birthday song have opened up my mind.
Episode length: approx. 20-30 mins.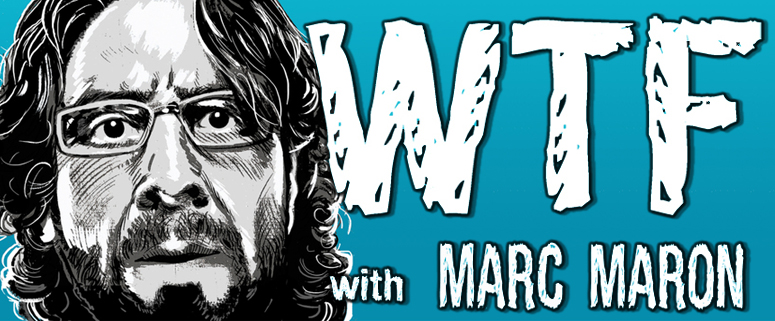 WTF podcast
While I can find comedian Marc Maron's schtick a little bitter and self-centric for my taste, I do think he's a superb interviewer. There's something about his frankness of his own mistakes that allow his guests to unleash, unwind and allow listeners to better understand them. There are new podcast episodes every week. Stay clear of the musician interviews (he's too fangirly to keep them on track) but definitely check out his episodes with Dick van Dyke, Aubrey Plaza and others to dig a little deeper with people who excel at their craft.
Episode length: approx. 60-90 mins.
Nerdist podcast
Host Chris Hardwick is all over the place like a smooth talking puppy on a sugar bender but this energy can result in some buzzy conversations. Sometimes it doesn't. It's inconsistent and loopy which makes for a potluck of experiences twice a week. I recently listened to his bizarrely random (and yet fascinating) discussion with Buffy's Amber Benson, a delightfully sassy conversation with the luminescent Connie Britton (FNL) and a great one-to-one on comedic process with Tina Fey.
Episode length: approx. 60-90 mins.
Firewall and Iceberg podcast
I am obsessed with American television and nothing quite hits the spot like the weekly melding of Alan Sepinwall and Dan Fienberg's minds. Television critics for HitFix they articulately breakdown TV with great insight into the history, process and creators of the form. For those that are spoiler-phobic they mark their episodes according to subject matter so fragile minds cannot be broken. I love their interplay - Alan's occasional silliness and need to go for the obvious joke sometimes making Dan respond in grating terms - it's a dynamic that works.
Episode length: approx. 60-120 mins.
Nerdist Writer's Panel
Forever interested in each person's creative process this podcast is my dream...which happens to be hosted by Ben Blacker. It combines process and television writing which makes for a joyous experience. Panels from festivals are shared after the fact, showrunners digging deep into how their show functions and great insight into the writer's rooms. A new edition to the podcast is the presence of comic book creators and I cannot be happier! Content from the ATX festival, specifically gracing Liz Tigelaar (Life Unexpected, OUaT, Nashville) are a highlight.
Q&A
While nowhere near the great heights of his previous Creative Screenwriting Magazine podcast, host Jeff Goldsmith's Q&A is a good (if inconsistently released) alternative. Centred primarily around the screenwriters (and occasional directors) of independent and mainstream films, at its best it is a brilliant insight into the minds of those who write screenplays. Goldsmith asks great questions always beginning with the all important 'how did you start out?' but the effectiveness of the episodes is always dependant on the screenwriter under the microscope. My favourite will always be the 2010
Easy A's Bert V Royal
who is HILARIOUS and irreverent about writing Olive's tale (serious, it's brilliant).
Episode length: approx. 70 mins
/filmcast
I keep trying new film podcasts but /filmcast continues to dominate. Regulars Dave and Devindra have a great rapport and very different viewpoints on the medium. They don't position themselves as experts on the form, rather healthy appreciators of it and the many guises it comes in. There is the same level of thought and excitement invested in a limited release independent title as there is a big, brainless blockbuster and I love them for it. There are occasional female guest hosts, something they seem to be increasing of late, which I appreciate.
Episode length: approximately 60 min
I am always on the look out for podcasts I should be listening to. You tell me, what am I missing out on and should rectify asap?