In lieu of the #YAsaves discussion that erupted online, I decided to turn inward. I wanted to think about how much my family, specifically my mother, played in my love of reading.
I asked my mother and sister the same kind of questions to see how my mother saw her own parenting in relation to reading and how my sister's reading may have differed from my own.
Erin, twenties
What is your first book memory?
Reading a Fudge book??? I think that is what is was and realising there is no Father Xmas.
(Nice...Judy Blume reference off the bat. 'I still love 'Tales of a Fourth Grade Nothing'....does that novel spoil the notion of Santa?)
What were your favourite books as a kid, and as a teen?
RL Stine and then Looking for Alibrandi, Tomorrow When the War Began
(It is with pride that I note that these were all books that I read and were passed down. My grandmother gifted most of the RL Stine which is pretty cool. The Marchetta is well loved in my family.)
What role did you parents play in your reading?
Hmmmm, I think we were encouraged.
To what effect did the reading habits of your parents have on your own reading?
None
(My dad didn't read - hasn't read a book since 1967 if I recall my eight grade project. My mother read in front of us quite a lot, especially on Sundays).
How would you categorise your reading as an adult? What do you like the read?
Occasional reader, usually when on planes. Anything really, true crime, thriller, tear jerkers.
(Same childhood, different reading paths. I read all the time - always have. I can't stand anything true crime or detective driven...)
Mum, fifties
What is your first book memory?
Chinese Fairy Tales
(My mum grew up in Dundas in the 50s/60s so I find her reading something cultural diverse to be really intriguing. Definitely makes me wonder if the choices my grandparents made, and the books my grandmother sent to my siblings and I, represent the open-mindedness in reading. Or maybe it just sounds weird to me?)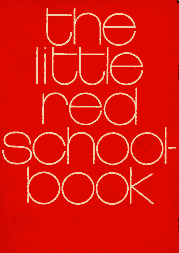 What were your favourite books as a kid, and as a teen?
Chinese Fairy Tales and a book about a duck which had a ring around his neck - the duck was called Ping. As a teenager I can remember reading the book called "The Little Red School Book" which had been banned and gave lots of information on sex, contraception and explained some of the mystifying terminology that older people used.
(My mother, the rebel. Think back to my Forever days... I looked up this book and it was banned in Victoria and Queensland in 1972. Two Danish school teachers wrote a book all about sex and drugs. You can find out more here.)
Did you make a conscious decision about your parenting in relation to reading?
Can't remember a conscious decision about reading, but do remember doing readers with you particularly and getting library books (but I don't remember helping you choose them) I think your early teachers did more than I did. And as you had advanced reading skills I do remember you reading things like Saddle Club etc which were aimed at older children than you were. I also remember that my mother used to send you lots of those books and you devoured them.
(I think Erin was the one that read Saddle Club, I was reading Babysitter's Club, Sweet Valley High and RL Stine - not Goosebumps ewww.)
How would you categorise your reading as an adult? What do you like the read?
I like to read travel documentation but have more difficulty reading now as my eyes are tired and I can't read without glasses.
(Really, really not looking forward to that. I can remember how heartbroken my grandfather was when his eyes couldn't take in the newspaper anymore.)
Would you tackle reading with your children now on reflection?
On reflection, I would have my children spaced out further apart and choose a partner who helped more, so that I could have more one to one time with my children and books. It was difficult to juggle three children's competing needs after school with books and quite frankly I didn't do it well quite a bit of the time. I would like to make reading more exciting and interesting.
(Frankly, that's a hard question. Parenting on reflection isn't really that much fun. Mum had three kids under four - I am surprised she had time to shower, let alone encourage us to read. And she did - she modelled reading for enjoyment, made sure there was lots of reading material in the house, took us to the library and all while she worked...she underestimated herself. Plus the joy of being the bossy elder meant that I could impart my wisdom, or perhaps just my overbearing nature, onto my younger sister and brother. It trickles down, people.)
In my case - I was born a reader. I was brought up in a family where reading (and education) were valued but not emphasised. I am the product of a non-reader and an occasional reader. My sister is an occasional reader, my brother is an internet and back of dvd reader and I read a lot. We were brought up in the same family, in the same schools with the same resources and we all differ in terms of our reading choices.
How much did my parenting affect my reading choices? Not a huge amount. I think I would have read no matter what. I was always ahead of where I "should" be. But having access to books at home, seeing my mother read for enjoyment, good teachers and regular library access all had a role. My primary school teachers and librarian were all amazing individuals - my mother was right to credit them.
But my mother never corralled our reading. She wanted us to read whatever interested us. My grandmother was also an influence. She would send boxes of books (and other crap) regularly - I always loved the Babysitter's Club Super Specials the best. We lived in a small town in the country so we didn't have bookstores - only the library. New books came in the form of care packages every few months. Paradise for a book nerd.
I find it interesting in my mother's response that she was reading books that were banned in her childhood and teen years. Her parents may or may not have influenced what she read. I cannot conceive that my grandmother would have approved her reading The Little Red Schoolbook but I think my mum would have found it anyway. I suspect this in turn affected her choices on what we could read...anything we wanted.
I don't even know if mum knew I was reading Stephen King novels at 10/11. Or Judy Blume's Forever - though I did get in trouble for that one at school (read here.) It didn't matter - I was reading. If it were too much I would do as John Marsden and Judy Blume suggested, I would have stopped reading.
I would like to encourage you to reflect on your own reading and how much, or how little, your family influenced your reading.