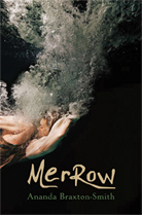 The people of

Carrick

have been whispering behind

Neen's

back for most of her life; ever since her father drowned and her mother disappeared.

The townspeople say her mother was a

merrow

who has returned to her real home in the ocean.

Neen

wonders if perhaps the villagers are right. But if her mother is a

merrow

then what does this make

Neen

?

This pitiless summer all the talk will end in trouble.

All

Neen

wants is the truth.

bdb.com.au




Review
-
Merrow
is a
subtlety
crafted exploration of a girl living on the cusp of the old world and the new. That time when earth religion was supplanted by organised religion.
Braxton
-Smith has woven a tale that places itself firmly on that divide and lives there, wobbling from time to time but leaving revelations until
Neen
has firmly decided who she is and what she wants.
Neen
is a teen who lives outside. Outside the village, outside her
aunt's
love, outside the truth. She's forever searching for the beyond, entertained (and informed) by stories Ma and Scully tell her of the Other World where
merrow
,
changlings
and
kraken
exist.
Neen
yearns for the sea. She has an
unquenching
need to be at one with it and suspects her family's history has a large part in this desire. The scales that cover her body also give her more evidence that she might be more than human.
It is a gentle read.
Braxton
-Smith paints a very real picture of the world but takes her time getting to the meat of the story. There is no push and pull, only the flow. At time this was frustrating but this isn't a story full of fire. Instead it is the story of water and truth.
In searching for her mother, her identity and the truth...
Neen
learns what is most important. A curious and well crafted read.

Published: May 2010
Format: paperback, 197 pages
Publisher: Black Dog Books
Source: publisher
Origin: Australia