Friday Night Lights Week will be taking place over the next five days. My aim is the bring awareness to the greater YA community on this fantastic show. Why? If you appreciate and love quality literature and the accurate depiction of teens - then this show is FOR you.
I have a lot in store. Friday Night Lights (FNL) is a favourite of many YA authors and I have asked some to contribute their thoughts on why you should take the time to check it out. Today Melissa Walker will be presenting her reasons via vlog. Over the next few days you will hear from Meg Cabot, Sarah Dessen, Elizabeth Scott, Lisa Schroeder, Chicago Tribune television journalist Maureen Ryan and Gayle Forman and their thoughts on why they adore this show. Jordyn from Ten Cent Notes will also be dropping by to give her two cents worth! Throughout the next few days I will also be posting on the characters, episodes and reasons why you should add this to your Netflix or buying an episode on iTunes. Perhaps you might even consider tuning in for the season 4 premiere on October 28th (unfortunately only on DirecTV). Regardless, prepare yourself to be educated on FNL!
~**~**~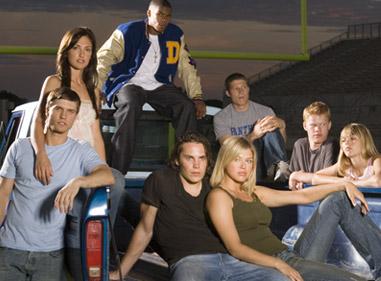 Imagine a show that centres around young people that doesn't feature the supernatural, super powers or rich people. Are you scratching your head? You might also be asking yourself why you'd bother watching something without one or all of those elements. My answer – you haven't watching an episode of DirecTV/NBC's Friday Night Lights.
It turns out that you don't have to be a vampire or an heiress in high school to be interesting. Who knew? In fact, you could even be attending high school in a small, struggling Texas town and make viewers intensely connected and invested in your failure or success.
Friday Night Lights started in 2007 to low ratings and has continued to pull low ratings. Just like Veronica Mars, My So Called Life and Arrested Development, it is universally adored by critics and the audience that tune in and love it. When I say people that love it, that encompasses anyone who ever thought they'd check it out for an episode and then found themselves hooked. It's good, supremely good, heartbreakingly good and you need to take the time to watch the forty minute pilot. You won't regret it and might possibly name your first born child after me (Adele or Persnickety would be fine).
What is Friday Night Lights (FNL)?
It depicts life in a small town in Texas and follows the people in and around the Dillon Panthers, the high school football team.
Having started in 2007, it is about to start it's fourth season on DirecTV.
It's about football – no thanks!
It's not about football. The main character is the coach of the football team but his role is more of a cantankerous, awesomely quaffed father-figure. Some of the male teen characters are football players but again (unlike every football player cliché on television) these guys haveproblems OTHER than football. You will see some football action but it always propels the plot and if I, an Aussie with no understanding or like of the game, LOVE this show then don't anticipate it being an issue.
Texas is football. The fictional town of Dillon, Texas loves it football and it's the pressure of that expectation that weighs most of the characters whether male or female.
What makes it special?
The writing
– it's faultless, it's note perfect, honest dialogue that gets to the heart of the matter. There are great monologues and conversations but they aren't afraid to tell a story in a look either.
The cinematography
– it's different. Actors don't have marks; they are shot wherever they happen to be in a location. The locations are all practical, meaning there is no studio backlot filled with the various rooms of the Taylor's house. Everything in shot in real locations (even the houses) in Austin, Texas which makes it more real, gritty and relateable than 95% of all television programming.
The actors
– they are pretty, very pretty but they can act your pants off. (But more of them tomorrow).
FNL Challenge -
Watch the Pilot episode of Friday Night Lights - borrow the dvds from a friend, library or Blockbuster, hit up Netflix or download off iTunes. I institute the four episode rule with new shows but in this case, I would like you to watch Season 1, Episode 1. Do it for Meg, Sarah, Melissa, Gayle, Lisa, Elizabeth and myself - trust us, we're brilliant and we aren't wrong!
Upon watching this episode, blog and tweet about it. Leave a comment. Bring more attention to this little show that could. It deserves it.
~**~**~
If you are a big fan of FNL and you'd like to provide a guest post on why this show is so darned good and why our fellow bloggers should check it out, please contact me via my email p.snark(at)gmail(dot)com.