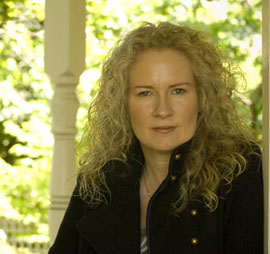 I first "met" Kirsty Murray when I made a complete schamozzle of a mix up with another author's name and her own. She was lovely about it and immediately made me feel less like an idiot. I was then fortunate enough to meet her in person at the Reading Matters conference where her graciousness and fierce head of hair (arguably the best in all of YA-dom) made a huge impression.
This month her novel,
Vulture's Gate
, has been released. It details a future Australia where all females have been wiped out and men have been forced to find alternative means of continuing the race. Two children, one girl and one boy, go on an adventure that is of enormous risk. It's a fantastic read and you can read my thoughts
here
.
It's
Kirsty Murray Week
here at Persnickety Snark and as such she's been subjected to the Author's Snapshot survey!
Which book is memorable from your teen years?

Alan Marshall's 'Whispering in the Wind'.Although possibly, if you'd asked me at the time I would have said something fairly pretentious like 'Brothers Karamazov'. Marshall's book was an allegorical 'rites of passage' story full of wry humour and very Australian characters.
Describe your high school English teacher in three words...

American, innovative, compassionate
Your book of the moment?
Chinua Achebe's 'Things Fall Apart'.Vivid, sharp clean writing about a place and a time of which I knew little before reading this book.
What do you use to mark your page when reading?

I have stacks of bookmarks strategically placed all around the house. The only time my grandfather ever lost his temper with me was when I left a book open face down and cracked its spine. He told me books were our friends and we should treat them with care and tenderness – which necessitated always using a bookmark.
Favourite place to read?

Anywhere warm. When I was a kid I used to like reading in trees. These days, I prefer either one of two favourite couches (in different rooms in the house) or my bed.
Favourite word?

Persnickety Snark (whoops, that's two words)
Adele - Flattery will get you everywhere :)

Favourite book store?

Collected Works which is run by the charming Kris Hemensley here in Melbourne. A chapel dedicated to poetry and an eclectic mix of books on ideas, theatre and culture.
Character you wish you had created?

Pippi Longstocking – both as a character and a literary icon she's a rule breaker on every front.
Thanks Kirsty! An interview with Kirsty regarding
Vulture's Gate
will be posted on Thursday, be sure to check back then.
http://www.kirstymurray.com/